Using DUO Authentication Proxy with AWS Managed Microsoft Active Directory
30 Nov 2018
I recently had to add a second factor to an AWS Workspaces environment. We use AWS Managed Microsoft AD for the Workspaces directory, which can be configured to call an external RADIUS server for secondary authentication. Since we are already using DUO for other systems, I used the Duo Authentication Proxy to provide this second factor.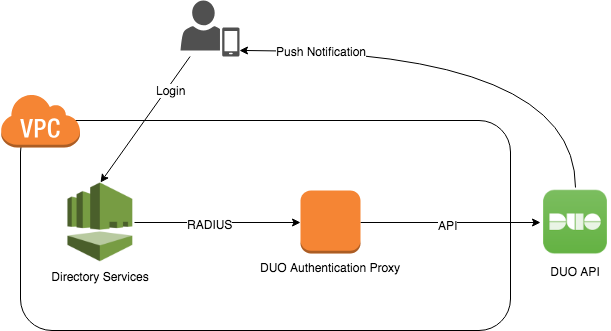 The proxy needs to be built from source. For example, on Ubuntu:
apt-get 

install 

build-essential libssl-dev python-dev libffi-dev
wget https://dl.duosecurity.com/duoauthproxy-latest-src.tgz


tar 

xzf duoauthproxy-latest-src.tgz


cd 

duoauthproxy-

*

-src


make


cd 

duoauthproxy-build
./install

Configuration of the DUO client is fairly straightforward. We just need to update /opt/duoauthproxy/conf/authproxy.cfg with our DUO API credentials, the IP addresses of the two domain controllers, and the RADIUS secret we want to use. Note that directory services only supports a single RADIUS secret used by all domain controllers, so just enter the same one twice.
[

duo_only_client]


;

 This section has no settings



[

radius_server_auto]


client

=

duo_only_client


port

=

1812


ikey

=

<duo_integration_key>


skey

=

<duo_secret_key>


api_host

=

<duo_api_host>



radius_ip_1

=

<dc1_ip_address>


radius_secret_1

=

<radius_secret>


radius_ip_2

=

<dc2_ip_address>


radius_secret_2

=

<radius_secret>



failmode

=

secure


allow_concat

=

false


factors

=

push

Finally we can configure directory services to use the DUO proxy as a second factor. This is simplest in the console, but can also be done via the command line:
cat

 

>

 settings.json 

<<

EOF


{
    "RadiusServers": ["<dc1_ip_address>", "<dc2_ip_address>"],
    "RadiusPort": 1812,
    "RadiusTimeout": 30,
    "RadiusRetries": 4,
    "SharedSecret": "<radius_secret>",
    "AuthenticationProtocol": "PAP",
    "DisplayLabel": "DUO",
    "UseSameUsername": true
}


EOF



aws ds enable-radius 

--directory-id

 <directory-id> 

--cli-input-json

 file:///settings.json